Event Details
uym_web.png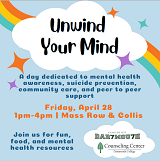 Date: Friday, April 28
Time: 1 - 4 p.m.
Location: Mass Row and Collis Common Ground
Rain Location: Collis Common Ground
FREE and FUN Activites!
- FREE Walking Tacos! (inside Collis)
- FREE chair massages! (inside Collis)
- FREE snuggles with therapy dogs! (inside Collis)
- FREE Kona shaved ice experience! (Mass Row)
PRIZES!
Students who complete a brief event survey will be put into a gift card drawing to local Hanover businesses!
- European Face and Body Studio: $120.00
- Lou's: $50.00
-Tacos Y Tequila: $50.00
- 4U Bubble Tea: $25.00
- Still North Books: $25.00
Booth Participants: Resources and Activities
Student Government
- Learn about Student Government's mental health work and share feedback and ideas related to mental health
Student Mental Health Union (MHU)
- Sticky-note wellness check-in activity 
- Learn about mental health resources
SAPA
- Mindfulness activity
POCO & DIJE
- Sign-up for a mindfulness hike
Graduate Student Council/Student Life
- Reflective activity
- Reusable bags with tea, bath bomb, key chain, face mask, stress toy giveaways
NAACP
 - Affirmation Cards & T-Shirt giveaways
Counseling Center 
- Mental health screenings
- Sign-up for Campus Connect Suicide Prevention Training
- Counseling Center and crisis mental health resources
- Sticker and affirmation card giveaways 
- Back by popular demand, adopt a succulent!
Student Wellness Center
- Make a Bracelet for a Friend station
- Gratitude journaling
- "How have you seen others support others" poster activity
- SWC resources
Inpatient Nursing Department
- Rock painting
- Nursing resources
Academic Skills Center
- Thank You card station. Write notes to others or to yourself. Mail yourself a card during weeks 8/9.
- ASC resources
Residential Life/House System
- Color your own window cling
OPAL
- Prize wheel
- OPAL resources
The William Jewett Tucker Center 
- Meditation/Prayer beads workshop - come learn all the ways to make and use meditation or prayer beads as a way to ground any spiritual practice
- Tucker Center resources
Primary Care
 - Dick's House resources
Jed Work Group: Safety & Wellbeing
 - LiveSafe app education
Jed Work Group: Integration of Wellbeing
- Share perceptions of inclusive and exclusive spaces on campus
Hanover Bike Walk
- Bike safety and wellness
This is a rain or shine event! Rain location: Collis. The Kona ice truck will be serving flavored ice rain or shine!
Come join us! All are welcome! Please contact Annie Greenwood for more information.