Get Read&Write
If you are not logged into Single Sign-On (SSO), you will be prompted to log in with your Dartmouth credentials.  Scroll down and answer the questions. The request confirmation page will include a link to sign-up and register.
screen_shot_2022-08-03_at_3.27.51_pm.png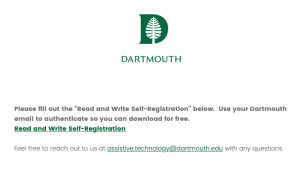 Select the "Try Read & Write" button
Choose your preferred platform
Follow the on-screen prompts to download the software
readandwrite_self_register.png
3. Sign In and Get Started
Once Read&Write is downloaded to your preferred platform, open Read&Write
The first time you open it you will be prompted to sign in via Google or Microsoft. Sign in with your Dartmouth email in order to have full access to all of the program features. This should be the only time you will be required to sign in.
SAS students who requested one-on-one training will receive an email from Assistive.Technology@Dartmouth.edu to schedule.