Get Kurzweil 3000 (CLICK THE ARROW TO EXPAND MORE INFORMATION)
If you are not logged into Single Sign-On (SSO), you will be prompted to log in with your Dartmouth credentials.  Scroll down and answer the questions. The request confirmation page will include a link to sign-up and register.
screen_shot_2022-08-03_at_2.27.58_pm.png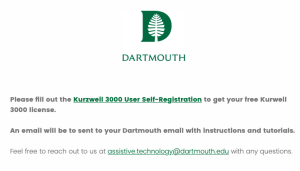 2. Self-Register
Click the "Kurzweil 3000 User Self Registration" link and fill out the User Self-Registration information.
user_self_registration.png

You will receive a "Kurzweil 3000 Account Activated!" email with your login credentials, links to download Kurzweil 3000, tutorials, and more.
kurzweil_welcome_email.png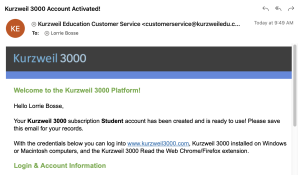 SAS students who requested one-on-one training will receive an email from Assistive.Technology@dartmouth.edu to schedule.