MoTEAvational Mondays
general_moteavational_mondays_image.png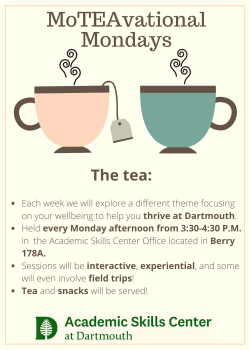 Please join us in Berry 178 for fun and informative programming every Monday afternoon from 3:30 - 4:30 PM. Students can earn Wellness Education (WE) credit for participating in MoTEAvational Mondays. Register at Dartmouth Groups and check out the Student Wellness Center website for additional WE credit opportunities.
Grab a cup of tea and start your week strong with the Academic Skills Center! Every week we will explore a different topic/theme that will help you thrive at Dartmouth. While we won't discuss academics directly, each of these sessions seeks to support your overall wellbeing, which in turn will positively impact your academic success. Sessions will be interactive, experiential, and some will even involve field trips!
23W Schedule
Jan. 9 - New Year/New Beginning: Meet the ASC Team and Plant Some Roots
Jan. 16 - Finding Balance: What Are You Prioritizing This Term?
Jan. 23 - Staying Connected: How We Maintain Meaningful Connections Through a 10-Week Term
Jan. 30 - Creative Outlets: How Being Crafty Can Keep Us Grounded
Feb. 6 - Take a Walk to Clear your Mind, Unlock Creativity, and Reduce Anxiety
Feb. 13 - New Perspective: Baker Tower Tour
Feb. 20 - The Power of Sleep: Yoga Nidra Practice Session
Feb. 27 - Nurture Your Brain with Nature
Mar. 6 - Combating Test Anxiety: Techniques to Keep You Calm