MoTEAvational Mondays
general_moteavational_mondays_flyer_updated_6.23.22.png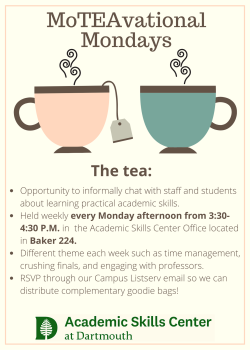 On June 27th, please join us for the first session of the summer, where you can meet the ASC staff and start the term off right! Please come by the ASC office, located in Baker Library Suite 224, to meet the ASC staff and get pointers on how to start strong this summer term.
New for summer: iced tea instead of hot! Please stop by our office to cool off while we spill the tea on doing well at Dartmouth!
RSVP before 2:30 PM on Monday, June 27th. We look forward to meeting you!