Take a Faculty Member to Breakfast or Lunch
This program is designed to encourage undergraduate students and faculty to have substantive conversations outside of the classroom, engaging around topics of academic interests, future studies, and general life experiences. Students may utilize this program once per term, whether requesting the voucher or as a guest, until the last day of classes.
While we encourage meeting one-to-one to strengthen the faculty-student relationship, groups of no more than 3 students may attend a given meal with one professor. 
Add Additional Students To Your Voucher 
PLEASE NOTE: A maximum of two additional students, not including yourself, may attend a meal with a professor.
REQUESTING A VOUCHER:
tafmtbl.png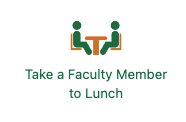 Log into DartHub and click on the tab, "Take a Faculty Member to Lunch". Follow the instructions given.                                                
PLANNING FOR YOUR MEAL
We strongly recommend making a reservation at Pine.

Keep the establishment hours in mind when reviewing your schedule and inviting the faculty member.

Vouchers are valid Monday - Friday at PINE and 53 COMMONS.

This program is for students and faculty only (not for use with a coach, CD, administrator, dean, TA, etc).
USING YOUR VOUCHER
You will request your voucher
A voucher will be sent to your email
Print the voucher
Present voucher to server at PINE or 53 Commons when ordering
THINGS TO REMEMBER:
**Students may utilize this program once a term! That's right, you have an opportunity each term to interact with faculty**
1. A voucher for Pine provides each guest with $30 for the meal. The voucher will be collected by the server at the end of the meal; each voucher may only be used once.
2. Plan for the tip at Pine: a $42 meal will require an $8 tip (18%). Tip must be included! Students are responsible for any amount beyond what is covered by the voucher. For example, if your meal + tip totals $65, and your voucher is $60, you are responsible for the additional $5.
3. At 1953 Commons you do not need to account for tip. 
4. Student may not tamper with or edit the voucher in any way. If changes need to be made to the voucher, student is responsible for emailing the Undergraduate Deans Office for such edits. 
5. Only 1 voucher may be used per meal.
6. If you (a student) attend a meal as a guest but are not the requester of the voucher, the meal still counts as your one time use for the term.
7. A maximum of 3 students and 1 professor may attend a given meal.
8. Alcohol may not be purchased with voucher.
9. If you need to change the date of your lunch, email undergraduate.deans.office@dartmouth.edu.
10. Request the voucher before your meal; reimbursements cannot be offered if you pay for a lunch without a voucher.
11. Vouchers must be used on or before the last day of classes of the term in which they are requested.