Indigenous Peoples' Month
NOVEMBER IS NATIVE AMERICAN/ALASKA NATIVE HERITAGE MONTH
9th: NAIS 8 guest - Kalina Newmark'11, Dene First Nation, Starbucks executive and activist with Dene women/youth
Meet Kalina at Sherman House Library, 2:30 to 4pm, open to public
11th: Poetry Reading by Gordon Henry, Heid E Erdrich, and Kinsale Drake
5pm at Homeland Studios (008 Steele Hall), and 7pm at Left Bank Books

Gordon Henry, author of six books including the just released Spirit Matters.

Heid E. Erdrich, author of seven books of poetry including Little Big Bully, 2020. 

Kinsale Drake, poet and playwright, co-author of humming bird heart, 2022
13th: Frybread Making Workshop at NAH (11am to make the dough and return at 4:30pm to make the patties and fry)
PAST EVENTS:
pasted_image_0.png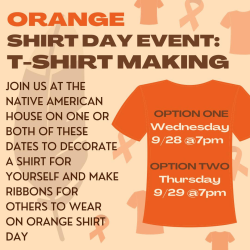 Friday, September 30, 2022
Support NAD on Orange Shirt Day. Calling on Dartmouth Student Groups to Support Native Americans at Dartmouth and Wear Orange on this Friday, September 30th.
What is Orange Shirt Day?
This Day is in honor of the Every Child Matters Movement, which recognizes an era in United States History, lasting until 1978, and Candian Hisotry, lasting until 1996, when Indigenous children were ripped from their families and taken to Residential/Boarding Schools aimed to strip them of their indigenous culture.
Every Child Matters.
OCTOBER IS INDIGENOUS PEOPLES' MONTH
5th: NAIS 8 guest - Aja DeCoteau'03
Confederated Tribes and Bands of the Yakama Nation, Columbia River environmentalist, works with salmon
7th: NAIS 8 Guest - Jodi Archambault'91
Hunkpapa and Oglala Lakota, beadwork artist, and activist, worked for Obama
Meet Jodi at Sherman House Library, 2:30 to 4pm, open to public
9th: 10pm Chalk Sidewalks with Native and Indigenous students. Native Drummer at NAH
10th: 6:30pm "Imagining the Indian" The Fight Against Native American Mascoting @Loew Auditorium Visual Arts Center
11th: Critical Dialogues: Native American Student Experiences
Join us for a dialogue about the experiences of Native American students at DartmouthTuesday, October 11, 2022
1:15pm – 2:15pm DCAL (Baker 102) Sponsored by: Dartmouth Center for the Advancement of Learning (DCAL)
Intended Audience(s): Faculty, Postdoc, Staff, Students-Graduate, Students-Undergraduate
Registration required. Join us for a dialogue about the experiences of Native American students at Dartmouth.
The Critical Dialogues series provides a venue for faculty and staff to hear the perspectives of students from marginalized identity groups at Dartmouth. These moderated panels give participants the chance to reflect on issues of privilege, equity, and inclusion at Dartmouth while centering student voices.
This event is being held in person. If you are sick, please do not attend. If you cannot attend in person due to illness or disability, please email us at dcal@dartmouth.edu to make alternate arrangements. While we cannot promise an equivalent remote experience, we are happy to accommodate. Thank you!
Please register: https://libcal.dartmouth.edu/event/9582194
For more information, contact:
Elli Goudzwaard
Permanent URL to this event: https://dcal.dartmouth.edu/events/event?event=67925
Events are free and open to the public unless otherwise noted.
 6pm@NAH with Boloco Dinner with Teaching Science Fellows
12th: NAIS 8 Mali Obomsawin'18
Canada First Nation Abenaki pop singer and activist
Meet Mali at Sherman House Library, 2:30 to 4pm, open to public
15th: 11pm Midnight Breakfast @NAH
16th: 6pm@NAH, Poetry Workshop with Kinsale Drake
Diné poet, Yale senior, and former National Student Poet 2018
20TH: INDIGENOUS FASHION SHOW AT THE HOOD
ABOUT

Join the fourth annual celebration of Indigenous fashion, creativity, expression, and design.

WHEN

Thursday, October 20, 2022
8:00-9:00PM

WHERE

Russo Atrium, Hood Museum of Art

SPONSOR

Hood Museum of Art

INTENDED AUDIENCE(S)

Public

DETAILS

Join the fourth annual celebration of Indigenous fashion, creativity, expression, and design. This program is co-sponsored by Native Americans at Dartmouth, Hokupa'a, Native American Program, and the Hood Museum of Art. Livestream access via the Hood Museum's Facebook page.

Image: Photo by Jami Powell.

FOR MORE INFORMATION, CONTACT:

Sharon Reed
Sharon.L.Reed@dartmouth.edu

Permanent URL: https://hoodmuseum.dartmouth.edu/events/event?event=67593
24th: NAIS 8 guest - Anna Tsouhlarakis'99
Diné, Creek, Greek artist, professor at University of Colorado, Boulder

Meet Anna for Brunch from 10:30am to Noon, Location: Sherman House Library
2nd: Indigenous Peoples' Food Station during dinner in FOCO
4th: NAIS 8 guest - Dr. Angie Erdrich'87, DMS'91, Ojibwe artist, and author
Meet Angie at Sherman House Library, 2:30 to 4pm, open to public
7th: NAIS 8 guest - Janine Ledford'89 Makah, tribal museum director, basket-maker, and traditional whaling activist
Meet Janine at Sherman House Library, 2:30 to 4pm, open to public Via. Zoom