A Mental Health Zoomcast
thinks_with_shrinks_logo.png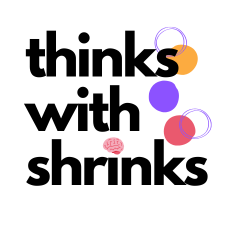 Thinks with Shrinks is a mental health Zoomcast hosted by Alex Lenzen, PhD and Paris Palmer, MSW. Alex, Paris and featured guests will drop some knowledge on psychology-related topics and explore what's on the minds of Dartmouth students. Have something you want discussed? Submit your ideas for upcoming episodes below.
On Instagram? Follow @dartmouthcounseling for the latest Thinks with Shrinks updates. 
SEASON TWO
5/13/2021, Ep10: Connecting with our Clinical Staff Coordinators
Guests: Annie Greenwood & Dominique Walton
4/28/21, Ep9: Sharing Concern for a Friend
Guest: Stefanie Jordão, MA
4/14/2021, Ep8: Anger
Guest: MK Oakley, PhD
3/31/2021, Ep7: Sex and Hook Up Culture
Guest: Brailyn Davis, MPH, CHES
3/10/2021, Ep6: Continuing to Cope with COVID
Guest: Brian Bowden, MA
2/24/2021, Ep5: SAS & Mental Health Accommodations
Guest: Alison May, PhD
2/10/2021, Ep4: Healthy Relationships
Guest: Liz Stahler, LICSW
1/27/2021, Ep3: Insomnia & Sleep Hygiene
Guest: Stefanie Jordao, M.A.
1/12/2021, Ep2: Motivation
12/16/2020, Ep1: Holiday Stress & Executive Functioning Concerns
Guest: Yuling Lai, MA
 
SEASON ONE
9/4/20, Ep10: Navigating Transitions and Therapy Terminations
8/21/20, Ep9: Primary Care, Mental Health, and COVID testing sneak peak
Guests: Holly Cathcart, PA; Barb Homeier, MD; and Marylee Verdi, APRN
8/7/20, Ep8: Context Matters: Discussing Race and Mental Health Among College Students
Guests: Counseling Center clinicians, Bryant Ford, PhD; and Arielle Riutort, MS
7/24/20, Ep7: Religion, Spirituality, and Mental Health
Guests: Daveen Litwin, Khalil Abdullah
7/10/20, Ep6: ADHD/Attention Concerns
Guests: Da-Shih Hu, MD; Alicia Key, PhD; Todd Lindsley, PhD
6/26/20, Ep5: An Interview with the Mental Health Union
Guests: Amanda Chen '21, Dakota Ma '22, Felicia Ragucci '22
6/19/20, Ep4: Nutrition, Intuitive Eating & How To Use Sardines To Make An Appetizer
Guest: Shira Evans, RD
6/12/20, Ep3: Navigating Loss & Anxiety in the Time of COVID
Guests: Lily Stowe Alekman, Rebecca Stowe, PhD
6/5/20, Ep2: Surviving Finals
Guests: Karen Afre, Audrey Herrald '23, Lee Witters, MD
5/29/20, Ep1: Counseling FAQs
Guest: Heather Earle, PhD